Pamela Jenkins,
the Cupcake Queen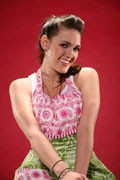 Pamela Jenkins
The best little cupcakes in Vegas belong to Pamela Jenkins.

As founder of The Cupcakery™, Las Vegas' premiere cupcake bakery, Jenkins has perfected the most nostalgic and favorite treat, the cupcake. With sophisticated flavors such as the Kir Royale and Chocolate Passion, the cupcake is no longer for children only.

Jenkins left a great job as an executive assistant to Timothy Poster, chairman and CEO of the Golden Nugget casino, to pursue her own business with two colleagues. The idea came during a particularly slow day in the office after reading about a lady in San Francisco selling homemade cupcakes out of her car. With the rise of cupcake bake shops across the country, Jenkins knew the cupcake business would be a sure hit in the Las Vegas valley. The doors opened in January 2006 and in the first year of business The Cupcakery sold more than 275,000 cupcakes.

Jenkins, who was born and raised in Jacksboro, Texas, studied in New York City, Spain, Argentina, and has traveled the globe. She is a total "foodie," loving to visit the culinary establishments of Vegas. When Jenkins is not spending time creating new cupcake recipes, she spends time with her three dogs Josephine, Tora, and Calypso, riding horses and doing Bikram Yoga. Jenkins gets a kick out of being affectionately called "Cupcake" around town.